Online-Kurs
MOC 10990 On-Demand: Analyzing Data with SQL Server Reporting Services
About this course
This course teaches you how to implement a SQL Server 2016 Reporting Services solution for data analysis in an organization. The course discusses how to use the Reporting Services development tools to create and manage reports and implement self-service BI solutions.
Target group
The primary audience for this course is database professionals who need to fulfil a BI developer role to create reports. Primary responsibilities will include implementing reports and mobile reports. The secondary audiences for this course are power information workers.
Course contents
Describe key features of data modeling within business intelligence
Describe various report services data sources and how these are configured
Create reports with report designer and/or report designer
Configure reports with report designer and/or report builder
Create SQL Server mobile reports
Requirements
20761A/B: Querying Data with Transact-SQL
MOC On-Demand: So funktioniert's
MOC On-Demand ist eine neue Trainingsform für Microsoft Official Courses. Lernen Sie die Seminarinhalte im Selbststudium mit Trainingsvideos, praktischen Übungen und Tests - immer dann, wenn es Ihnen Ihr Zeitplan erlaubt.
Wenn Sie einen MOC On-Demand Kurs buchen, erwerben Sie einen Zugang zum Microsoft On-Demand Course Player, mit dem Sie innerhalb von 90 Tagen den Kurs in Ihrer eigenen Geschwindigkeit, integriert in Ihren Arbeitsalltag durchführen können.
Weitere Informationen finden Sie auf unserer MOC On-Demand Seite.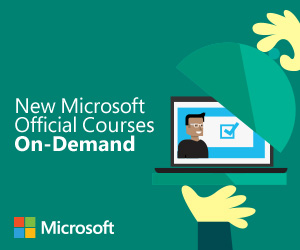 Alle On-Demand Kurse können wie folgt gebucht werden:
Preis je Teilnehmer:
90 Tage Zugang:
449,00 € zzgl. MwSt.
180 Tage Zugang:
549,00 € zzgl. MwSt.
Paketpreis inkl. digitale Seminarunterlage:
90 Tage Zugang:
799,00 € zzgl. MwSt.
180 Tage Zugang:
899,00 € zzgl. MwSt.