Online-Kurs
MOC 10988 On-Demand: Managing SQL Business Intelligence Operations
About this course
This course is aimed at database professionals who manage Business Intelligence (BI) operations. This course looks at various options that provide the ability of business users to analyze data and share their findings, starting with managed BI data sources and expanding to personal and external/public data sources.
Target group
The primary audience for this course are business intelligence professionals. The secondary audiences for this course are technically proficient business users.
Course contents
Describe key features of a self-service BI solution
Describe the key capabilities of SQL Server BI in a SharePoint environment
Describe common Analysis Services operational tasks
Describe PowerPivot for SharePoint server
Describe Power Query
Describe Windows Azure HDInsight
Requirements
Some basic knowledge of data warehouse schema topology (including star and snowflake schemas)
Some exposure to basic programming constructs (such as looping and branching)
An awareness of key business priorities such as revenue, profitability, and financial accounting is desirable.
Familiarity with SharePoint Server and Microsoft Office applications – particularly Excel
MOC On-Demand: So funktioniert's
MOC On-Demand ist eine neue Trainingsform für Microsoft Official Courses. Lernen Sie die Seminarinhalte im Selbststudium mit Trainingsvideos, praktischen Übungen und Tests - immer dann, wenn es Ihnen Ihr Zeitplan erlaubt.
Wenn Sie einen MOC On-Demand Kurs buchen, erwerben Sie einen Zugang zum Microsoft On-Demand Course Player, mit dem Sie innerhalb von 90 Tagen den Kurs in Ihrer eigenen Geschwindigkeit, integriert in Ihren Arbeitsalltag durchführen können.
Weitere Informationen finden Sie auf unserer MOC On-Demand Seite.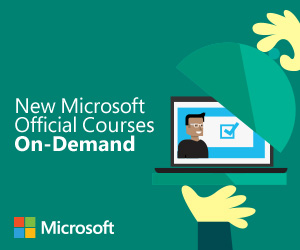 Alle On-Demand Kurse können wie folgt gebucht werden:
Preis je Teilnehmer:
90 Tage Zugang:
449,00 € zzgl. MwSt.
180 Tage Zugang:
549,00 € zzgl. MwSt.
Paketpreis inkl. digitale Seminarunterlage:
90 Tage Zugang:
799,00 € zzgl. MwSt.
180 Tage Zugang:
899,00 € zzgl. MwSt.