Online-Kurs
MOC 20533 On-Demand: Implementing Microsoft Azure Infrastructure Solutions
About this course
This course teaches IT professionals how to provision and manage services in Microsoft Azure. Students will learn how to implement infrastructure components such as virtual networks, virtual machines, containers, web and mobile apps, and storage in Azure. Students also will learn how to plan for and manage Azure AD, and configure Azure AD integration with on-premises Active Directory domains.
Target group
This course is intended for IT professionals who have some knowledge of cloud technologies and want to learn more about Azure. This course is intended for:
IT professionals who want to deploy, configure, and administer services, containers, and virtual machines (VMs) in Azure.
IT professional who use Microsoft System Center to manage and orchestrate server infrastructure.
Windows Server administrators who are looking to evaluate and migrate on-premises Active Directory roles and services to the cloud.
IT professionals who want to use Azure to host websites and mobile app back-end services.
IT professionals who are experienced in other non-Microsoft cloud technologies, meet the course prerequisites, and want to cross-train on Azure.
IT professionals who want to take the Microsoft Certification Exam 70-533: "Implementing Microsoft Azure Infrastructure Solutions."
Course contents
Describe Azure architecture components, including infrastructure, tools, and portals. Implement and manage virtual networking within Azure and configure cross-premises connectivity.
Plan and create Azure VMs.
Configure, manage, and monitor Azure VMs to optimize availability and reliability.
Implement Azure App Service.
Plan and implement storage, backup, and recovery services.
Implement container-based workloads in Azure.
Deploy, configure, monitor, and diagnose cloud services.
Implement Azure AD.
Manage an Active Directory infrastructure in a hybrid environment.
Automate operations in Azure by using Azure Automation runbooks.
Requirements
Completed the Microsoft Certified Systems Administrator (MCSA) certification in Windows Server 2012.
Understanding of on-premises virtualization technologies, including: virtual machines, virtual networking, and virtual hard disks (VHDs).
Understanding of network configuration, including: TCP/IP, Domain Name System (DNS), virtual private networks (VPNs), firewalls, and encryption technologies.
Understanding of websites, including: how to create, configure, monitor and deploy a website on Internet Information Services (IIS).
Understanding of Active Directory concepts, including: domains, forests, domain controllers, replication, Kerberos protocol, and Lightweight Directory Access Protocol (LDAP).
Understanding of database concepts, including: tables, queries, Structured Query Language (SQL), and database schemas.
Understanding of resilience and disaster recovery, including backup and restore operations.
Requirements
Verständnis für folgende Technologien:
Virtualisierung
Netzwerkkonfiguration einschließlich TCP/IP, DNS, VPNs, Firewalls und Verschlüsselungstechnologien
Websites und Internet Information Services (IIS)
Active-Directory-Konzepte einschließlich Domänen, Forests, Domänencontroller, Replikation, Kerberos und LDAP
Datenbankkonzepte einschließlich Tabellen, Abfragen, Structured Query Language (SQL) und Datenbankschemata
Disaster Recovery und Backup
MOC On-Demand: So funktioniert's
MOC On-Demand ist eine neue Trainingsform für Microsoft Official Courses. Lernen Sie die Seminarinhalte im Selbststudium mit Trainingsvideos, praktischen Übungen und Tests - immer dann, wenn es Ihnen Ihr Zeitplan erlaubt.
Wenn Sie einen MOC On-Demand Kurs buchen, erwerben Sie einen Zugang zum Microsoft On-Demand Course Player, mit dem Sie innerhalb von 90 Tagen den Kurs in Ihrer eigenen Geschwindigkeit, integriert in Ihren Arbeitsalltag durchführen können.
Weitere Informationen finden Sie auf unserer MOC On-Demand Seite.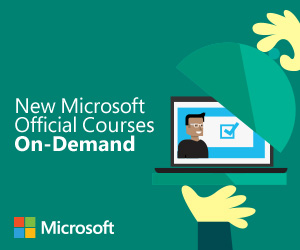 Alle On-Demand Kurse können wie folgt gebucht werden:
Preis je Teilnehmer:
90 Tage Zugang:
449,00 € zzgl. MwSt.
180 Tage Zugang:
549,00 € zzgl. MwSt.
Paketpreis inkl. digitale Seminarunterlage:
90 Tage Zugang:
799,00 € zzgl. MwSt.
180 Tage Zugang:
899,00 € zzgl. MwSt.