Online-Kurs
MOC 20398 On-Demand: Planning for and Managing Devices in the Enterprise: Enterprise Mobility Suite (EMS) and On-Premises Tools
About this course
This course teaches IT professionals how to use the Enterprise Mobility Suite to manage devices, users, and data. In addition, this course teaches students how to use other technologies, such as Group Policy and other Windows Server–based technologies, to manage devices and secure data. Students will learn how to design and implement cloud-based and on-premises solutions for managing Windows-based, iOS, and Android devices, and they will learn how to provide secure and efficient access to data and applications.
Target group
This course is intended for IT professionals and consultants who plan, deploy, and manage devices and applications in medium to large organizations. A significant portion of this audience works in on-premises Active Directory Domain Services (AD DS) environments with both domain-joined and non-domain joined devices, for which they need to provide mobile device management and secure data access. Devices in such environments typically run Windows 10, Windows 10 Mobile, iOS, and Android. They plan to extend on-premises AD DS to the cloud and they need to learn how to plan and implement Enterprise Mobility Suite.
Course contents
Use devices in the enterprise environment.
Implement and administer Microsoft Azure Active Directory (Azure AD).
Connect AD DS with Azure AD.
Manage devices in Microsoft Office 365.
Plan and implement Intune.
Use Intune to manage devices.
Plan and implement app support.
Use Intune to manage applications and Resource Access.
Plan and implement Microsoft Azure Rights Management (Azure RMS).
Plan and implement Remote Access.
Plan and implement Dynamic Access Control and auditing.
Plan and protect data.
Recover data and operating systems.
Requirements
TCP/IP networking fundamentals
Understanding of Domain Name System (DNS)
Working knowledge of Active Directory principles
Understanding of the public key infrastructure (PKI) fundamentals
Understanding of cloud-based service concepts
Windows Server 2012 R2 fundamentals, including Remote Desktop Services
Experience with Windows 10
Familiarity with Windows PowerShell
Basic knowledge of mobile platforms
MOC On-Demand: So funktioniert's
MOC On-Demand ist eine neue Trainingsform für Microsoft Official Courses. Lernen Sie die Seminarinhalte im Selbststudium mit Trainingsvideos, praktischen Übungen und Tests - immer dann, wenn es Ihnen Ihr Zeitplan erlaubt.
Wenn Sie einen MOC On-Demand Kurs buchen, erwerben Sie einen Zugang zum Microsoft On-Demand Course Player, mit dem Sie innerhalb von 90 Tagen den Kurs in Ihrer eigenen Geschwindigkeit, integriert in Ihren Arbeitsalltag durchführen können.
Weitere Informationen finden Sie auf unserer MOC On-Demand Seite.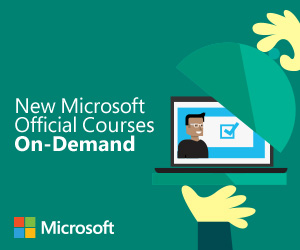 Alle On-Demand Kurse können wie folgt gebucht werden:
Preis je Teilnehmer:
90 Tage Zugang:
449,00 € zzgl. MwSt.
180 Tage Zugang:
549,00 € zzgl. MwSt.
Paketpreis inkl. digitale Seminarunterlage:
90 Tage Zugang:
799,00 € zzgl. MwSt.
180 Tage Zugang:
899,00 € zzgl. MwSt.